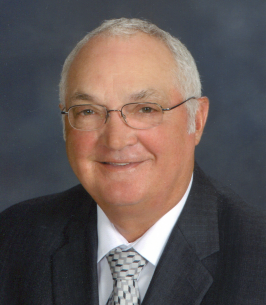 Carl R. Weber, 80, of Watertown, SD, passed away on Friday, February 26, 2021 at his residence.

Funeral mass will be at 10:00 a.m., Thursday, March 4, 2021 at the Immaculate Conception Catholic Church in Watertown with Father Richard Fox officiating.

Visitation will be from 5-7 p.m., with a scripture service at 5:00 p.m. on Wednesday, March 3, 2021 at the Wight & Comes Funeral Chapel in Watertown.

Burial will be at St. Mary's Cemetery, Watertown, SD. Military honors will be conducted by Codington County Post 17 of the American Legion.

Active Pallbearers will be his son, sons-in-law, and grandsons: Jason Weber, Christopher Weber, Doug Walder, Jon Walder, Cullen Walder, Chandler Walder, Doug Adams, Tyler Adams, and Thomas Adams.

Honorary Pallbearers are granddaughters: Kristin Walder, Kylee Weber, Elena Adams, and Dalia Adams along with his great-grandchildren.

In lieu of flowers, the family requests memorials be given to Prairie Lakes Hospice or the Immaculate Conception Catholic Church.

Carl Richard Weber was born August 4, 1940 to Herman A. and Louise F. (Busskohl) Weber in Denison, Iowa. He attended school in Dow City, Iowa and graduated in 1959. He lived with his family on the farm in Iowa until he enlisted in the United States Air Force and served four years active duty as Airman First Class. Carl served from January 19, 1961 to January 18, 1965 as an aircraft mechanic that services and repaired KC-135 tankers and B-52 bomber aircraft.

Carl moved to Watertown and started working for Quadee Rubber Company (Minnesota Rubber) from July 1966 to February 2006 for 40 years. Then in 2007, he worked for the City of Watertown at Mount Hope Cemetery for five years.

On July 25, 1970, he was united in marriage to Barbara Jean Cordell at Immaculate Conception Catholic Church in Watertown.

He was a member of the American Legion and enjoyed slow and fast pitch softball, hunting, golfing, dancing, and yard work. He enjoyed watching pro football and was an avid Pittsburgh Steelers fan.

Grateful for having shared his life are his wife, Barb and children, Denise (Doug) Walder of Watertown, SD, Kimberly (Doug) Adams of Humboldt, IA, and Jason (Heather) Weber of Wahpeton, ND; 10 grandchildren; 4 great-grandchildren; his sister, Fern Hoffman of Atlantic, IA; one sister-in-law, Joyce Weber of Henry, SD; and several nieces and nephews.

He was preceded in death by his parents, Herman A. and Louise F. Weber; three brothers, Harry, Richard "Dick", and Thomas Weber; two sisters, Marcella Keairnes and Phyllis Cordell; three brothers-in-law, Jerry Hoffman, LaVern Cordell, and Vernon Keairnes; and sister-in-law, Judy Weber.

Arrangements by Wight & Comes Funeral Chapel, www.wightandcomes.com.